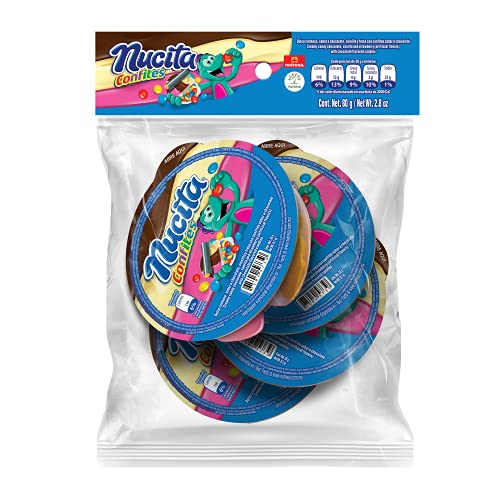 Nucita Trisabor Confites Bags | Delicious On-The-Go Treat | Candy for Children | 4 Pieces in Each Bag | Chocolate, Vanilla & Strawberry Flavors | 2.8 Ounce (Pack of 12)
---
Brand: NUTRESA
Features:
NUCITA TRISABOR CONFITES: On one side, small candy-coated; on the other, a creamy surprise of chocolate, strawberry, and vanilla, and when you mix both, a new flavor will come!
THE PERFECT MIX: If you're talking about perfect mixes, then you're talking about Nucita Confites.
GREAT VALUE: Includes 12 bags with 4 pieces in each bag
GREAT FOR KIDS: It is a fun and dynamic product that combines fun with flavor, making consumers experience its flavor by combining 3 cream flavors (chocolate, vanilla & strawberry)
HOLIDAY FAVORITE: Nucita is delicious creamy candy for kids and young adults. You can enjoy it anywhere, any time of day, any way you want! It is ideal to hand out at children's parties, use as piñata fillers, put in children's lunchboxes, or handout for Halloween
Binding: Grocery
Release Date: 10-09-2022
Details: Nucita is a creamy sweet milk and cocoa candy to be enjoyed at any time of day.
EAN: 0045735001168
Package Dimensions: 10.8 x 3.8 x 1.9 inches
---
Share this Product
---
Other Brands