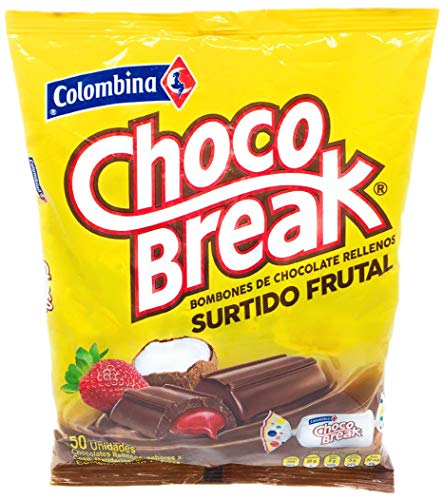 Eight-14 Chocobreak Fruity Filled Chocolate - Delicious Colombian Milk Chocolate 8.81 Onces Bag (Chocobreak Fruity Assorted, 50 pcs)
---
Brand: Eight-14
Features:
♥ PERFECT GIFT: For the love ones and co-worker alike. The right choice for any occation, for special celebration to just hang out with friends.
FRUITY CENTER: Chocobreak is a milk chocolate filled with frity flavors like coconut, strawberry, blackberry and mandarin make this timeless confection irresistible!
PIECE OF COLOMBIA: Enjoy Colombian chocolate! This delicious candy will melt in your mounth making a fruity explotion.
✔Freshness 100% Guarantee !! You always receive the best-tasting candies, we carefully choose our product looking for more than 10 months of expiration date.
👍 HAPPY CUSTOMER: Please feel free to contact our Customer Service if you have any question.
Details: Every bite contains fine quality cacao and a rich flavor. Plus, each individually wrapped piece shares a special message under the foil wrapper to lift you up and make you smile. Packaged in a 50-piece bulk candy bag, CHOCOBREAK Candies are great for candy buffets at parties, piñatas and after-dinner nightcaps. These tasty candies are also a delicious way to share chocolate joy at Christmas, Easter, Halloween and Valentine's Day celebrations.
EAN: 0706332633649
Package Dimensions: 9.3 x 1.3 x 1.3 inches
---
Share this Product
---
Other Brands