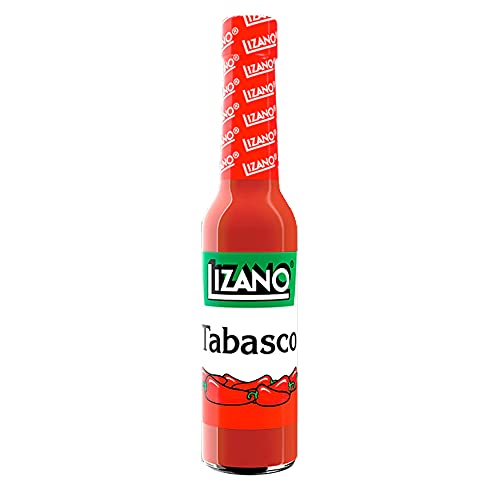 Lizano Tabasco Hot Sauce Costa Rican Spicy Thick Rich Hot Sauce No Vinegar Salsa with Ripe Red Tabasco Pepper Robust Fiery Flavor 62 g., 2.2 fl oz.
---
Brand: BLOODY GERRY PREMIUM TOMATO BEVERAGE MIX
Features:
RIPE RED TABASCO PEPPERS are used by Lizano Tabasco from Costa Rica to produce a uniquely powerful chili flavor completely unlike any other hot sauces
THICK RICH TEXTURE, never watery, and packs a powerful punch of robust, savory, bright flavor
GENUINELY SPICY with just the right amount of heat & flavor to really enjoy the flavor of your food and the fiery sensation in your mouth
COMPLEMENTS ALL CUISINES! Pizza, pasta, tacos, burritos, chicken, burgers, poke bowls, spicy mayo sushi, the possibilities are endless.
ZERO VINEGAR TASTE This hot chili pepper sauce is packed with peppers not fillers, no vinegar and not watery to give you the ultimate chili pepper hot sauce flavor!
GREAT GIFT for the hot sauce lover! Lizano Tabasco Hot Sauce from Costa Rica makes a great gift that is unique and will delight your recipient.
Details: Lizano Tabasco uses ripe red tabasco peppers to create a robust and flavorful unique hot sauce. No vinegar added so you only taste the richest flavor of these delicious peppers. This is a powerful and spicy hot sauce that we recommend you try on ceviche, huevos rancheros, tacos, burritos, pizza and many more dishes that need a kick of heat and flavor. If you've ever traveled to Costa Rica and enjoyed their hot sauce and salsas then you know how hard to find this hot sauce is! Order today! This makes an awesome gift for the hot sauce lover! FAST SHIPPING from Los Angeles, CA
EAN: 0866922000159
Package Dimensions: 9.0 x 5.0 x 1.5 inches
---
Share this Product
---
Other Brands