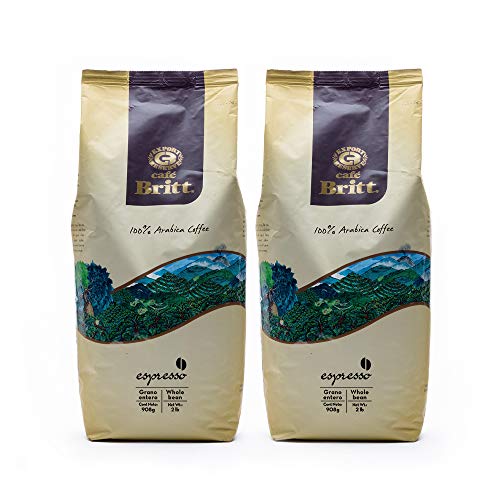 Café Britt® - Costa Rican Espresso Coffee (2 Lbs Each) (2-Pack) (4 Lbs Total) - Whole Bean, Arabica Coffee, Kosher, Gluten Free, 100% Gourmet & Dark Roast (1 Year Shelf-Life)
---
Brand: Café Britt
Features:
ESPRESSO ROAST COFFEE FROM COSTA RICA - A classic espresso coffee expertly crafted with premium beans from Costa Rica's Central and Western Valleys; rich and foamy crema pairs elegantly with the aroma of fruit, caramel, and toast
OVER 30 YEARS OF EXPERIENCE - Founded in 1985, Café Britt is Costa Rica's premier gourmet coffee company
100% COSTA RICAN ARABICA - A blend of the finest gourmet coffee beans from Costa Rica's Central and Western Valley growing regions
THIRD-PARTY CERTIFIED - Certified kosher and gluten free; high-mountain grown, Strictly Hard Bean coffee
GUARANTEED FRESHNESS - Premium whole roasted coffee beans packaged in our triple-layer aluminum bag to lock in freshness
Details: For Café Britt Espresso, our Master Cupper and Master Barista have focused on the specific qualities that make for the perfect espresso. Crafted with skill, our house blend highlights the natural sweetness and acidity of Costa Rica's high-mountain arabica beans. A chocolaty, mildly acidic espresso with a luscious crema, it's perfect by itself or as a starting point for your favorite espresso-based drink. As our darkest roast, Café Britt Espresso is also a popular choice for coffee makers or French presses. Bring the Costa Rican restaurant industry's favorite espresso into your home. About Café Britt Founded in Costa Rica in 1985, Café Britt was one of the world's first gourmet coffee roasters located in a coffee-producing country. Our decades of experience, strong ties with producers, and obsession with quality allow us to source the region's finest beans. Every gourmet coffee we offer goes directly from the farm to our in-house roaster. With Café Britt, experience the freshness that only coffee roasted in its country of origin can offer.
EAN: 0645860000151
Package Dimensions: 12.4 x 5.4 x 3.1 inches
---
Share this Product
---
Other Brands