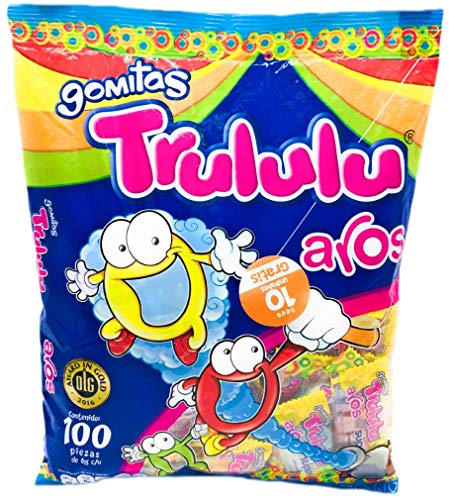 Eight-14 Trululu Fruity Gummy Rings - Sugary Sweet Individually Wrapped 21.10 Onces Bag of 100 (Trululu rings, 100 pcs)
---
Brand: Eight-14
Color: Lime
Features:
🍭SWEET WITH A TOUCH OF SOUR → Sour fruity flavor in a chewy, is the perfect balance of TRULULU.
🍭SHARING SIZE → Pack of 100 - 3 different flavors peach, lime and strawberry. Perfect snack to hang out with friends and family.
🍭TASTE OF COLOMBIA→ 100% Colombian candies, this time Eight-14 brings you this time a gummy candy.
✅FRESHNESS & QUALITY 100% GUARANTEE!! You always receive the best-tasting candies, we carefully choose our product looking for more than 10 months of expiration date.
👍 HAPPY CUSTOMER: Please feel free to contact our Customer Service if you have any question.
Details: TRULULU RINGSColombiland always brings you the best of Colombia, delightful combination of sour and sweet. Peach, strawberry and now imagine a green apple gummy. Melts on your mouth…….MMMM DELICIOUS!! You can it eat 99 more times. ENJOY THIS PACK OF 100 PCS.
EAN: 0706332633663
Package Dimensions: 10.6 x 8.5 x 1.9 inches
---
Share this Product
---
Other Brands