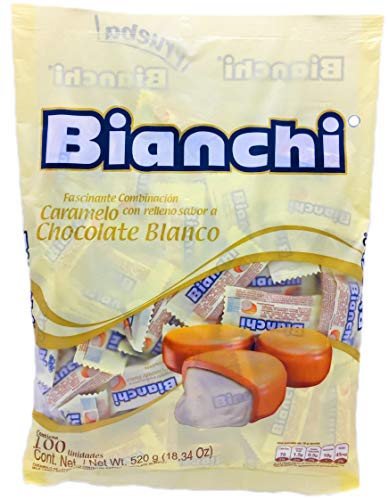 Eight-14 Bianchi Chewy Caramel Candy - Milk Candy with White Chocolate Center - 18.34 oz Bag Of 100 Pcs, BIANCHI WHITE CHOCOLATE
---
Brand: Eight-14
Features:
🍬EXPLOSION OF TASTE IN YOUR MOUTH: Enjoy these delicious milk candy filled with white chocolate, it melts in your mouth for a delightfully creamy and delicious treat.
🍬SHARING OR GIFTING : Enjoy for dessert, share with friends and family. Pack of 100 pieces→ A great idea for a gift.
🍬MILK CANDY: If you always want to try something new, here Eight-14 brings you this time BIANCHI. You won't regret it. MADE IN COLOMBIA
✅FRESHNESS & QUALITY 100% GUARANTEE!! You always receive the best-tasting candies, we carefully choose our product looking for more than 10 month of expiration date.
👍 HAPPY CUSTOMER: Please feel free to contact our Customer Service if you have any question.
Details: BIANCHI Milk caramel filled with white chocolate perfect for a dessert, with a coffee, movie time or wherever you want. ☻Share it or just keep it to yourself…… YUMMYYYY!♥After you taste one, you are not going to stop. Milk caramel with white chocolate x 100 Units.
EAN: 0706332633588
Package Dimensions: 12.8 x 1.4 x 1.3 inches
---
Share this Product
---
Other Brands