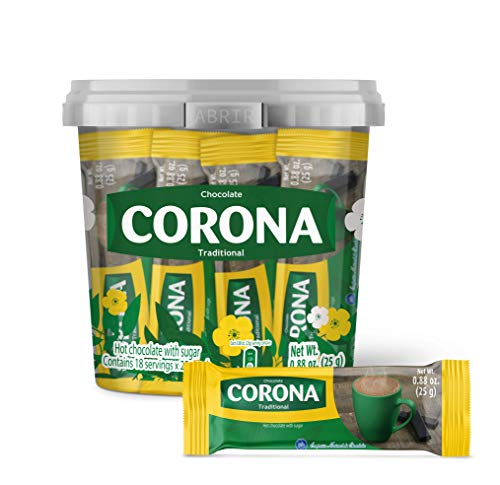 Corona Sweet Traditional Chocolate Bars | No Cholesterol or Trans-Fat | Delicious On-The-Go Treat | 15.87 Oz Jar (Pack of 1) | 18 Single Serving Bars (0.88 Oz Each)
---
Brand: CORONA
Features:
DELICIOUS FLAVOR: Corona Chocolate is a rich tasting sweet chocolate bar with notes that creates a rich and indulgent chocolate flavor.
QUALITY PRODUCT: Corona Chocolate is made with real cocoa using sustainably sourced cocoa beans. It's also made with 0% Trans fat, and 0% Cholesterol!
EASY TO PREPARE: Only add hot water or milk and then boil for an amazing traditional Hot Chocolate. However, you can add other ingredients and create your own original Hot Chocolate. Use your creativity, the sky's the limit!
SHARING IS CARING: Corona Chocolate Bar has the perfect size to share with family and friends! The uncomplicated and quick preparation of our chocolate doesn't let you worry about anything else. Laughs between friends, hugs in the morning, movies at night; share those great moments with a cup of Corona Chocolate and make them even better. Gather around because Corona Chocolate makes everything easy!
GREAT VALUE: This presentation of our chocolate in single servings gives you the possibility to prepare exactly how much hot chocolate you want. Includes one Jar with 18 Single servings, each with 0.88 Oz.
EAN: 0051817506681
Package Dimensions: 4.9 x 4.9 x 4.8 inches
---
Share this Product
---
Other Brands