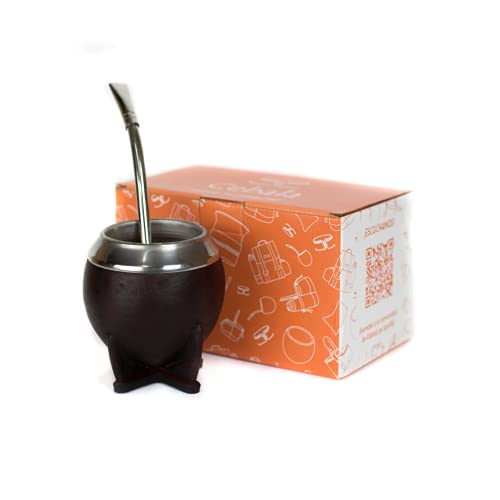 CEBALA | Premium yerba mate cup (Mate gourd set) - Uruguayan mate - Includes alpaca bombilla straw (nickel silver) and leather mate cup (torpedo mate)
---
Brand: Cebala
Features:
- TRADITIONAL MATE SET - This yerba mate tea set is made out of hand selected fruits. The kit includes: A natural Mate cup "copo" gourd and bombilla mate straw handmade with alpaca.
- ABOUT THE GOURD - The Gourd (matte tea cup) is the original and traditional way in which the Mate drink is taken, genarally made from a kind of "pumpkin". With this set you will experience the authentic way of drinking mate!
- NATURALLY AUTHENTIC - Handmade in Uruguay yerba mate mug with straw. No machines, a unique style and artwork making each piece unique. Each Calabash Gourd grows uniquely, at his time and form.
- CURING THE MATE - The Mate must be cured, to seal the pores of the fruit and give the mate a richer flavor, you will find the instructions for curing inside the box. A natural gourd gives an exquisite taste to the mate.
SATISFACTION GUARANTEED: If for any reason the product arrives in poor condition, we will take care of it. In Cebala our priority is the client. We are committed to providing an excellent shopping experience.
Details: At Cebala we are experts in everything related to the mate industry. The project was born in Uruguay with the aim of putting a mark on mate. We work as an ecommerce to the whole world. The main difference with the mate argentino is that in Uruguay we used the natural gourd instead of the stainless steel mate cups. Probably you know the typical copo stanley. We invite you to live the true mate experience! We are sure that it will become a new habit in your day to day 😀 * CONSIDER ABOUT THIS BOMBILLA STRAW * Built with hand-forged Alpaca steel in Uruguay. Alpaca metal is the most used in uruguay to make light bulbs. The material with which this bombilla is made is essential to have an excellent experience drinking mate. Alpaca steel is a noble material that prevents the bulb from heating up with boiling water. * CONSIDER ABOUT THIS YERBA MATE CUP * The Calabash Gourd is the traditional way in which the Mate is taken, generally made from a kind of "pumpkin". In general gourds are approximately the size of an average fruit (apple, pear or peach), some are a little bigger, some are a little smaller. It varies because they are natural. No two are the same. Being made of a complete natural fruit the Mate gourd must be cured to seal the pores, avoid bitterness and cracks. The packaging includes a manual with clear instructions on how to cure and prepare this authentic set for the best taste and experience! Also you can visit our page! There is all what you need to know about this tradition. Enjoy the Mate 😜 - Mate drink is very rich in antioxidants and nutrients!! CEBALA | THE ORIGINAL WAY
Package Dimensions: 7.2 x 4.3 x 4.2 inches
---
Share this Product
---
Other Brands