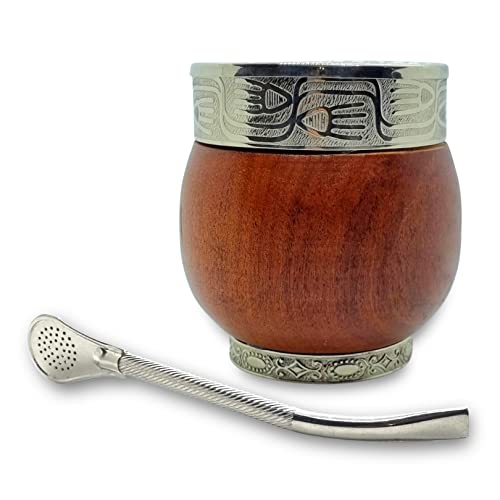 DUEVOLO Yerba Mate Gourd ( Mate Cup ) - Uruguayan Mate - Includes Stainless Steel Bombilla. - Mate Imperial - Mate Cup and Bombilla Set. - Wood Mate (Guarda Rupestre)
---
Brand: DUEVOLO
Color: Brown
Features:
YERBA MATE CUP: This Mate cup is Handmade.
MATE SET: 1 Wood Mate Gourd, 1 Stainless Steel Bombilla ( straw ), Curing Instructions Manual
PREMIUM DETAILS: Made With Hand Carved Alpaca and Wood. They Make This Mate and Bombilla an Indispensable Kit to Enjoy a Good Mate Tea.
TRADITION: The Gourd is the Traditional Way in Which Mate is Drunk, it Must be Cured, to Seal the Pores and Cracks. We Include a Manual With Instructions on How to Cure it Prior to Use and Prepare it to Enjoy the Best Mate Experience.
SATISFACTION GUARANTEE - Your Satisfaction is Our Top Priority. If You are not Satisfied or Have any Problem with the Product, you can Send us an Email and Give Us the Opportunity to Resolve It.
model number: MATEMDR03
Package Dimensions: 6.8 x 5.0 x 5.0 inches
---
Share this Product
---
Other Brands