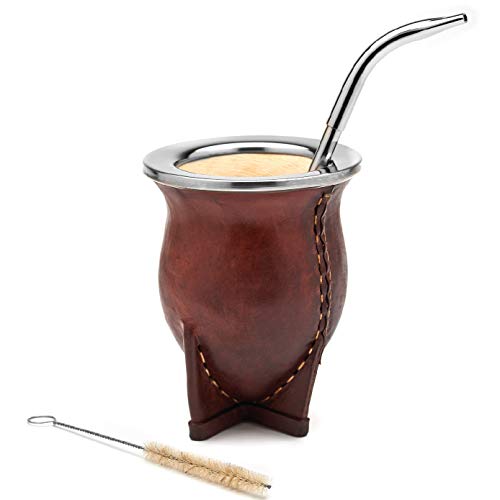 BALIBETOV Premium Yerba Mate Gourd (Mate Cup) - Uruguayan Mate - Leather Wrapped - Includes Stainless Steel Bombilla and Cleaning Brush. (Camionero Burgundy)
---
Brand: BALIBETOV
Color: Camionero Burgundy
Features:
SELECTED MATE GOURD - Balibetov Premium Gourd is made out of bigger selected fruits. The set includes; A linen bag, a natural gourd, a stainless steel bombilla straw and cleaning brush.The ring top makes each piece a work of art. Enjoy the Mate - A Beverage rich in antioxidants and nutrients the original way, with an All Natural Gourd! Please read the included manual with clear instructions before any use for a long lasting product.
AUTHENTIC HANDCRAFTED - No machines, a unique style and artwork making each piece unique. Each Calabash Gourd grows uniquely, at his time and form. No two are the same. Some are bigger, some are smaller. Nature does not repeat - it creates. Years pass by and every sip brings sweet memories and special feelings with a unique taste that only a natural Gourd can provide.
PREMIUM DETAILS - The most premium Mate Gourd in the market. Handmade by artists with quality terminations. Wrapped in genuine Argentinian leather and a carved stainless steel ring top. The natural fruit provides an exquisite taste to the beverage. Ideal product for personal use or as a beautiful gift.
RICH HISTORY & KNOWN-BENEFITS - The Calabash Gourd is the traditional way in which the Mate is taken, generally made from a kind of "pumpkin" called Lagenaria. Being made of a complete natural fruit the Mate gourd must be cured, to seal the pores, avoid bitterness and cracks. The packaging includes a manual in Spanish and English with clear instructions how to cure and prepare it for the best Mate experience!
SATISFACTION GUARANTEE - Your satisfaction is our main priority. If for any reason you are unsatisfied or have any issue with the product please email us and give us the chance to resolve it.
Binding: Kitchen
model number: Premium Yerba Mate Set
Details: Brand new Handmade Mate Gourd (cup) This set includes A Calabash Mate Gourd, a Bombilla straw and a cleaning brush. . These Mate gourds were carefully selected for the quality, thickness and craftsmanship along with the natural coloring methods They are handmade by artisans, each gourd will have its own unique characteristics. In general gourds are approximately the size of an average fruit (apple, pear or peach), some are a little bigger, some are a little smaller. It varies because they are natural. You will also get with this set a booklet with detailed information about the mate ritual and instructions on how to cure your gourd. HERE IS SOME INFO ABOUT HOW TO CURE THE Balibetov Mate Gourd: For your gourd to be ready for use, it needs to be cured. This helps prevent cracking, molding, and improves the flavor. You will notice that the longer you use your gourd, the better your Yerba Mate will taste. Fill the Gourd three quarters with Yerba Mate. Pour hot (not boiling) water into the Gourd until it is full. Let the gourd sit in a well-ventilated place for 36 hours, topping it off with water as the Gourd absorbs it. Then pour out the contents of the Gourd and rinse thoroughly in running water, you can use a spoon to clean the walls for best results. Some prefer to do this process twice, the second time letting the Yerba and water sit for 2 hours. Your Balibetov Mate Gourd is ready for use!
EAN: 0652118504095
Package Dimensions: 7.1 x 4.8 x 4.8 inches
---
Share this Product
---
Other Brands