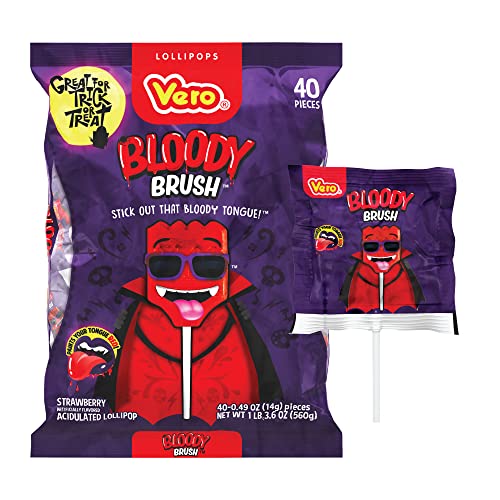 Vero Bloody Brush Strawberry Artificially Flavored Sweet and Sour Lollipop, 19.6 Ounces, 40 Count Bag
---
Brand: Vero
Color: Red
Features:
A Shockingly Delicious Treat: Excite your taste buds with a candy that delights the senses. This lollipop is a sweet and spooky treat that paints your tongue red as it is enjoyed.
Sweet Strawberry: This sucker's vibrant red color and deliciously luscious strawberry artificially flavored make it a favorite of candy lovers of all ages!
Trick or Treat: Bloody Brush Lollipops are the perfect Halloween treat to pass out to children or enjoy at costume parties. Your mouth becomes red while they are enjoyed, just like a vampire!
Be the Fiesta Starter: Perfect for filling up the piñata and sharing during the holidays, use our sweet and sour candy to kickstart any fiesta. Grab a bag and share the shockingly delicious Bloody Brush Lollipops with your family and friends.
A Classic Hispanic Candy: Enjoy a unique candy experience that captures a taste of the Hispanic culture in every bite! Our sweet candies offer a true and authentic taste of Latin flair in every bite.
Release Date: 01-09-2021
Details: Sweeten your life with a frightening treat that delivers an irresistibly delicious taste of strawberry with a shockingly red tongue! Only with Vero candy can you discover a treat that captures a taste of the Hispanic culture in every bite. Vero Bloody Brush Strawberry Lollipops are a sweet, artificially flavored strawberry treat that are sure to delight anyone's taste buds and you can stick out your bloody tongue as you enjoy them. Easily become the hero of your group when you bring a bag of these crowd-favorite treats to the costume party and create tasty, new Halloween memories with family and friends. Perfect for giving your next fiesta a true Latin flair, use our candies to fill the piñata to the brim and get ready to add a bit of delicious heat to the party. Our suckers are great for sweetening up birthday celebrations, pass out to trick-or-treaters, placing a few in your Dia De Muertos altar, mixing in a gift bag as a party favor, using as a stocking stuffer, or enjoying as the perfect treat for movie night. Plus, you can stash a couple away in your pocket or purse for when you're on the move. Individually wrapped and made at just the perfect size, you can add a sugary kick to your day whenever you wish—whether you're at the office, headed to school, hanging out with friends, or just walking around town. Treat yourself to a Vero snack today—and turn any moment you wish into a fiesta!
EAN: 0757528045241
Package Dimensions: 11.6 x 10.0 x 2.6 inches
---
Share this Product
---
Other Brands