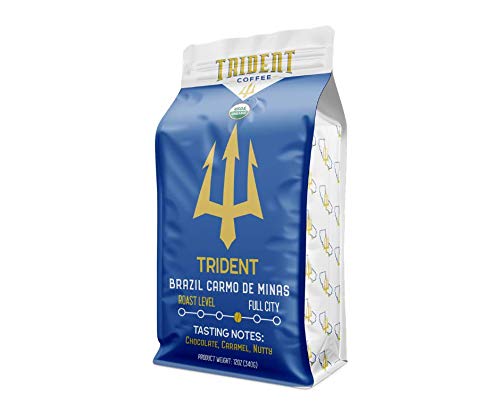 Trident Whole Bean Brazilian Roast Coffee 12 oz. Bag | Carmo de Minas Brazil Whole Bean Coffee Medium Roast
---
Brand: TRIDENT COFFEE ESTD MMXV
Features:
WHOLE BEAN MEDIUM ROAST COFFEE: A 12-ounce bag of Brazilian coffee beans, carefully selected by Trident - the captains of great coffee, if you will. Enticing aromas and dynamic flavors await you on groggy Mondays and grim Humpdays
DIRECT TRADE: Sourced directly from our friends in Carmo de Minas to bring their craft directly to your door.
BRAZILIAN BEANS FULL OF FLAVOR: When you think of rich coffee, you think of Brazil. But there's no need to weigh anchor because we've brought the beans to you
AROMATIC, FULL-BODIED & INTENSE: A roast chocolate coffee combo with hints of silky caramel and creamy nuts. It's what your tastebuds have been searching for
THE POWER OF POSEIDON IN EVERY CUP: The Trident enabled Poseidon to control both land and sea. So drink up, you godlike creature, and be inspired to make waves
Details: • We know waters can be rough, especially in the morning. Never fear! TRIDENT is the everyday essential missing from your morning routine. This Brazilian, "full city", small batch roast is for the caffeine lover, and the coffee connoisseur. • Our coffee is DIRECTLY TRADED from our friends in Brazil as well as roasted in our taproom in Imperial Beach, CA. Every part of our production(shipping, receiving, roasting, canning, and packaging) is intimately executed by our crew of friends & family. • Although our claim to fame is "AMERICAS FINEST COLD BREW", these beans are as versatile as the sea itself. Whether you like drip, French press, pour-over, or cold brew TRIDENT is your flavor. • We are a VETERAN OWNED & OPERATED coffee roaster that focuses on delivering not only the best coffee but customer experience. Your purchase fuels are passion. • LET'S CHAT! We love to hear from our customers in the reviews and on social media.
EAN: 0861097000331
Package Dimensions: 8.8 x 5.2 x 3.0 inches
---
Share this Product
---
Other Brands