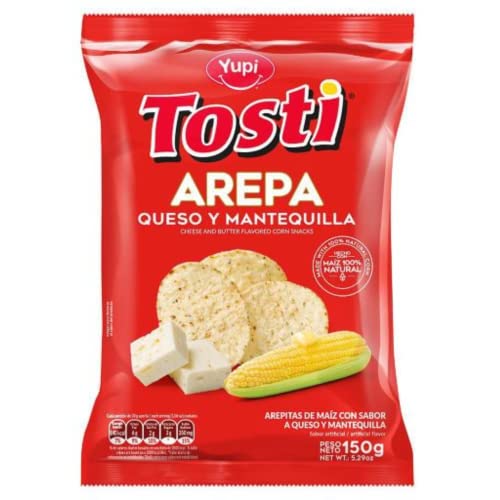 Tostiarepas (24 pack) an Arepa Colombian snacks Cheese and Butter Corn Snacks colombian snack online mecato colombiano Colombian food products
---
Features:
Big, bold, delicious Tostiarepas Cheese flavored with butter tortilla chips
Naturally flavored tortilla chips inspired by the amazingly delicious flavors served up at our favorite taco trucks
100% natural corn arepitas inspired by Colombian arepas.
One of the most delicious colombian snack. Great for some on-the-go energy, as an afternoon snack, for dessert after a meal or simply as comfort food, treats from Ruufe come in a wide variety of shapes, colors and tastes
For over 30 years, Yupi has been bringing smiles to the faces of snack lovers and dessert lovers with each and every bite
Details: 100% natural corn arepitas flavored with cheese and butter. The best aIdeas to accompany them: 1. Cream cheese with capers and basil. 2. Enjoy them with a rich sauce based on fresh tomatoes, long onion, salt, pepper to taste and drops of lemon. 3. Mix avocado, onion, tomatoes, chili, a touch of garlic and a few drops of lemon. (2 packs of 12 count per each pack) are sold together for a total of 24 pieces). Enjoy with the family ----------------------- Arepitas de maíz 100 % natural con sabor a queso y mantequilla. Ideas para acompañarlas: Queso crema con alcaparras y albahaca. Disfrútalas con una rica salsa a base de tomates frescos, cebolla larga, sal, pimienta al gusto y gotas de limón. Mezcla aguacate, cebolla, tomates, ají, un toque de ajo y unas gotitas de limón. (Dos paquetes de 12 cada uno son vendidos juntos para un total de 24 unidades) Perfecto para disfrutar en una reunion familiar.
EAN: 7706512372514
---
Share this Product
---
Other Brands