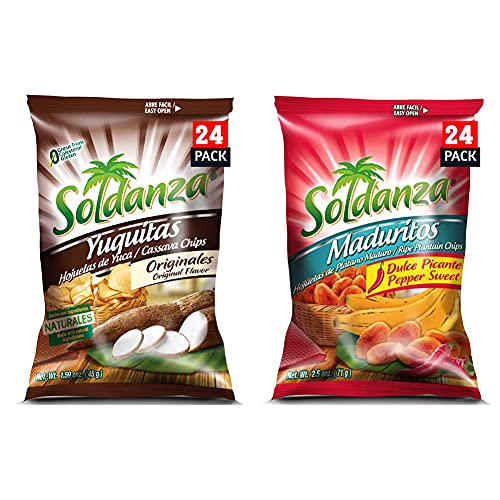 Soldanza Cassava Chips, 1.59 Ounce (Pack of 24) and Soldanza Pepper Sweet Plantain Chips, 2.5 Ounce (Pack of 24)
---
Brand: soldanza
Features:
AUTHENTIC FLAVOR AND TEXTURE: These crispy golden chips are packed with the natural goodness of the rainforest. They are nothing less than perfectly delicious.
ONLY THREE INGREDIENTS: Cassava (yucca), sunflower/ Canola Oil, Salt
AUTHENTIC FLAVOR AND TEXTURE: We made tasty, versatile dasheens into a convenient, crispy and mouth-watering chip. Experience the delicious, natural, authentic flavor and texture of soldanza Plantain Chips.
OUR STORY: Soldanza is produced in the lush, untouched town of Puerto Viejo de Sarapiquí located in the Northern Lowlands region of Costa Rica. This rugged and beautiful environment inspired our mission to create a range of snacks made from nature's finest ingredients. Here in this tropical paradise, each Soldanza bite is lovingly crafted by awesome chefs for you and your loved ones.
Binding: Product Bundle
---
Share this Product
---
Other Brands