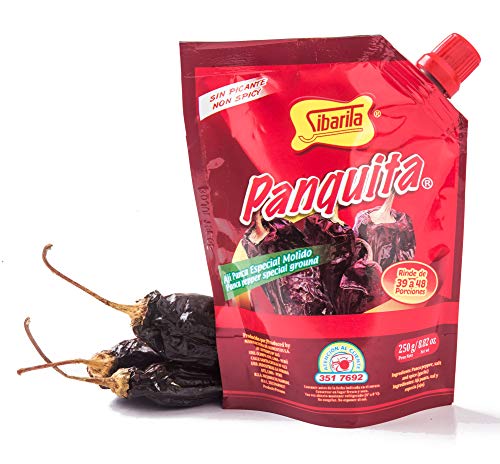 Sibarita Aji Panca Pepper Sauce - Peruvian Panca Chili Paste Peppers - Non Spicy - 250 Grams - 8.82 Oz.
---
Brand: Sibarita
Features:
This package comes in a pouch that contains 250 grams / 8.82 oz. of non spicy aji panca molido. It yields around 39 to 48 serving plates.
You're craving Peruvian food but don't know where to start when it comes to stocking your pantry and making your recipes. First, we suggest you start with two chiles that are found in the majority of Peruvian food dishes: Aji Panca and Aji Amarillo.
Ask anyone who knows anything about Peruvian food and they will tell you that Aji Panca paste is also the most important ingredient in Peruvian cooking. Aji Panca, or panca pepper paste, is a must-have for your home if you're thinking about exploring Peruvian food.
The next chile you need in your pantry for Peruvian cooking is the Aji Panca. Aji Panca is a beautiful red pepper that is grown along the coast of Peru. Like Aji Amarillo, Aji Panca is commonly found in Peruvian food dishes. It is a dark, deep red color that provides a smoky, fruity taste to dishes that is hard to find with any other chile.
Aji Panca is milder than Aji Amarillo, but still packs a powerful flavor punch. Aji Panca is well known for being the essential ingredient in one of Peru's most loved dishes: anticuchos. But you will also find Aji Panca in Peruvian food such as Pollo a la Brasa and in many stews and sauces.
EAN: 7753121003612
Package Dimensions: 5.9 x 4.3 x 1.5 inches
---
Share this Product
---
Other Brands