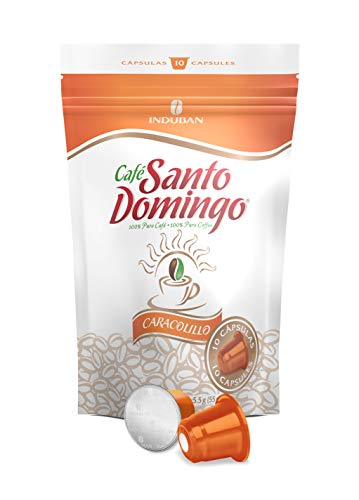 Santo Domingo Coffee Peaberry Capsules - Compatible with Nespresso Original Brewers · Product from the Dominican Republic (10)
---
Brand: Café Santo Domingo INDUBAN
Features:
Roast: Medium
Flavor notes: caramel, spices and citrus
Roasted and packed in Dominican Republic
Kosher - Gluten Free 
Imported from the Dominican Republic
Details: Enjoy a delicious cup of coffee filled with all the Dominican culture and tradition, as well as the Induban group's experience. A combination of the best coffees roasted to perfection converges in a complex aroma among caramel, spices and citrus which when tasted, impresses you with a perfect balance. For over half a century we have been proud to contribute to make coffee a part of the Dominican daily life. Caracolillo is named after its shell-shaped beans and characterized by a strong concentration of tastes, is considered a unique and exclusive coffee prized by coffee lovers. We are honored by the fact that Café Santo Domingo is also called "My coffee".
Package Dimensions: 9.1 x 5.3 x 2.3 inches
---
Share this Product
---
Other Brands