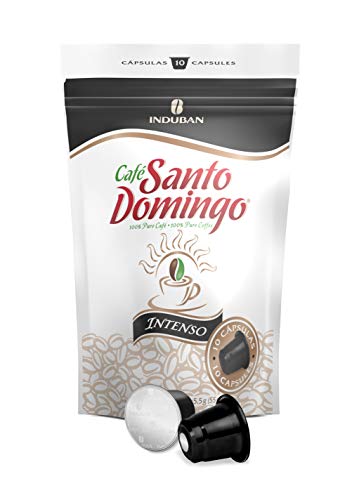 Santo Domingo Coffee Intenso Capsules - Compatible with Nespresso Original Brewers · Product from the Dominican Republic (10)
---
Brand: Café Santo Domingo INDUBAN
Features:
Roast: Light Medium
Flavor notes: Chocolate, vanilla and hazelnut
Roasted and packed in Dominican Republic
Certifications: Kosher - Gluten Free 
Imported from the Dominican Republic
Details: Enjoy a delicious cup of coffee filled with all the Dominican culture and tradition, as well as the Induban group's experience. A combination of the best coffees roasted to perfection converges in a complex aroma among almond, vanilla and cocoa which when tasted, impresses you with the perfect balance between what's naturally sweet, and coffee's characteristic gentle acidity and subtle bitterness. For over half a century we have been proud to contribute to make coffee a part of the Dominican daily life. A blend of the best arábica and conilón beans, roasted separately and assorted in balanced proportions. Tasting it, one perceives a concert of tropical music with strong notes and an intense taste that remans on the palate. We are honored by the fact that Café Santo Domingo is also called "My coffee".
EAN: 0748325005125
Package Dimensions: 8.4 x 5.3 x 2.4 inches
---
Share this Product
---
Other Brands