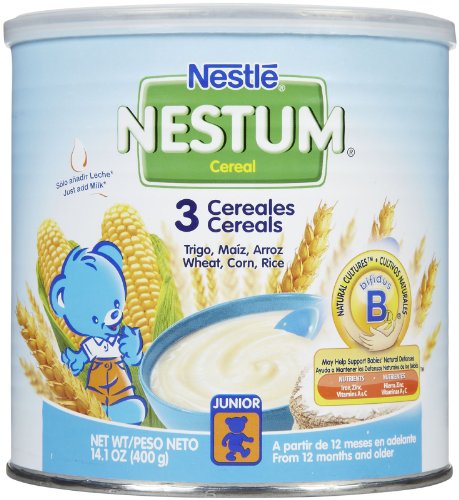 Nestum 3 Cereals - Wheat, Corn and Rice (14.1 Ounce (Pack of 1))
---
Brand: Nestum
Features:
Just Add Milk
Natural Cultures(TM): Bifidus BL
May Help Support Babies' Natural Defenses
Nutrients: Iron, Zinc, Vitamins A & C
Wheat, Corn, Rice
Part Number: 028000891695
Details: Goodness of Cereals: Nestum Infant Cereals can be an important part of a healthy weaning diet. Each 17g serving has nutrients baby needs to support healthy growth and development. Good to Know: Nestum 3 cereals are a good source of 10 vitamins and minerals. Benefits of Nestle's Nutrition Research: With Bifidus BL. Bifidus BL beneficial cultures are shown to help support babies' natural defenses when consumed daily. Vitamin A: Helps support a healthy immune system. Vitamin C: An antioxidant vitamin that supports baby's natural defenses.
EAN: 0028000891695
Package Dimensions: 5.8 x 5.3 x 5.3 inches
---
Share this Product
---
Other Brands