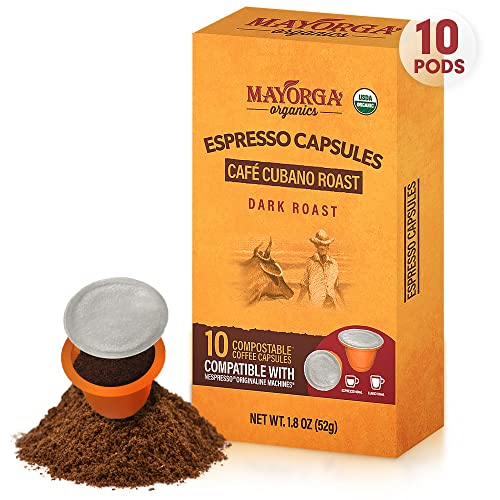 Mayorga Dark Roast Espresso Pods, 10CT Café Cubano - w/ Nespresso Original Brewers - Organic, Specialty Grade 100% Arabica Coffee Beans - Non-GMO, Direct Trade
---
Brand: Mayorga
Features:
MAYORGA COFFEE CAFÉ CUBANO ROAST - Our Roastmaster craft roasts our coffees from Peru, Honduras and/or Nicaragua, and gives our Café Cubano Roast a unique flavor profile that makes this cuban-style roast a Mayorga favorite. Mayorga has perfected this smooth, dark roast cuban coffee with hints of vanilla and sweet, syrupy smokiness, with a smooth, and bold finish and low acidity.
NESPRESSO CAPSULES - The future is here! Our organic, plant-based Café Cubano Espresso Capsules ensure that you can enjoy the unique flavors in a convenient coffee pod format while being considerate of the planet and the generations to come. Compatible with Nespresso brewers. Just load the dark roast coffee capsule into your nespresso original brewer, position your mug and start brewing. Enjoy!
SIGNATURE SLOW-ROASTING PROCESS - Mayorga cofee is specialty grade, 100% Arabica, shade-grown coffee, roasted and packaged in the USA. Using our signature Latin slow-roasting process to craft roast our coffee in small batches, we are able to give each of our signature roasts a distinct flavor and ensure the highest quality.
ALWAYS ORGANIC & SUSTAINABLY SOURCED - We believe our customers deserve to consume clean, unadulterated foods. Our 100% organic products are kind to our environment, our customers, and our farmers. This mindset permeates through all aspects of how we run our business and the decisions we make. Operating sustainably isn't a marketing concept. It's a conscientious decision we must make daily.
MAYORGA COFFEE - ¡HECHO CON ORGULLO LATINO! Mayorga is Latino-owned company with a focus on supporting producers in Latin America. The quality of our products goes unmatched. Since 1997 we've built a reputation as industry leaders by partnering with farmers rather than trading with them. We are invested in sustainability at all levels not only in Latin America but at all our facilities
Details: Cubano Espresso Capsules ☕ Specialty Grade coffee. ♻️ Compostable. 🌱 Plant-based. 💚 Organic certified. 🌎 Good for the planet. ✅ Nespresso️ compatible. Café Cubano Roast is our signature blend. Made with specialty grade coffee, we use our signature Latin style, slow-roasting process to achieve a cuban-style profile by roasting coffees from Peru, Honduras and/or Nicaragua, providing a distinctly bold cup, with a sweet flavor, and smooth finish, making this cuban-style roast a Mayorga favorite. There are no contents originating from Cuba in this or any of our products.
EAN: 0691779617270
Package Dimensions: 6.1 x 3.1 x 1.3 inches
---
Share this Product
---
Other Brands