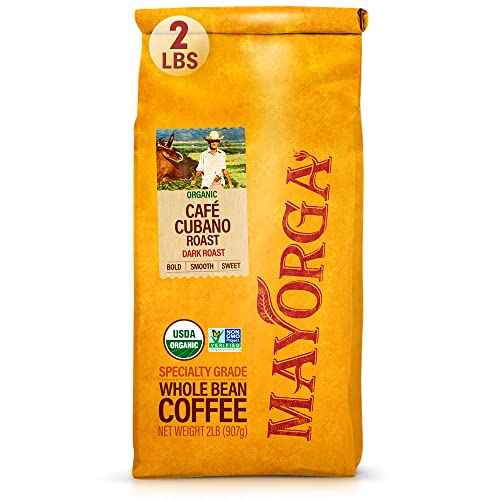 MAYORGA COFFEE Café Cubano Roast, the World's Smoothest Organic Coffee, Specialty-Grade, Non-GMO, Direct Trade, 100% Whole Arabica Beans, 2lb Bag…
---
Brand: Mayorga
Features:
MAYORGA ORGANICS CAFÉ CUBANO ROAST is a cuban-style dark roast profile Mayorga has perfected, with hints of vanilla and sweet, syrupy smokiness, with a smooth, and bold finish with low acidity
IN THIS UNIQUE BLEND: Our Roastmaster craft roasts our coffees from Peru, Honduras and/or Nicaragua, and gives our Cafe Cubano a unique signature flavor profile, making this cuban-style roast a Mayorga favorite
SUSTAINABLY SOURCED from quality-inspected, certified organic small farmers and cooperatives throughout Latin America. USDA Organic, Non-GMO Verified, Kosher, Direct Trade
SLOW-ROASTING PROCESS using our signature Latin, slow-roasting small batch process, we are able to give our Cafe Cubano Roast a distinct flavor. Our coffees are high-quality, Specialty Grade, 100% Arabica, Shade-Grown. Our coffee is roasted and packaged in the USA
There are no contents originating from Cuba in this or any of our products
Binding: Grocery
Release Date: 06-01-2015
model number: BHBUSAZIN026801
Part Number: 112213
Details: :Cafe Cubano is Mayorga's signature blend, offering utmost quality, flavor and value. Mayorga Organics was founded 20 years ago on the premise that we can be the conduit to give consumers delicious coffee at a great price while giving farmers access to the market to create better income for them. Each of our origin coffees is beautifully distinct. While we proudly showcase that distinctiveness, we recognize that pairing some origins creates special flavor profiles and a wonderfully balanced cup. Product Description: As a child, Martin Mayorga spent time at cigar factories with his father, interacting with Cuban cigar makers who had fled Castro's government in the 1960's. He recalled the men playing dominos, talking about their plight upon leaving their home country, and drinking a distinctly dark, syrupy coffee. Later in his childhood, Martin was able to appreciate first hand this rich coffee while spending time with his father and Cuban immigrants who moved to Miami. Our Cafe Cubano is an homage to the culture and distinct flavor that Martin still appreciates to this day and that brings him back memories of his father and others who fled their governments to find freedom in the United States. We hope you enjoy!
EAN: 0723521744542
Package Dimensions: 14.1 x 5.7 x 3.7 inches
---
Share this Product
---
Other Brands