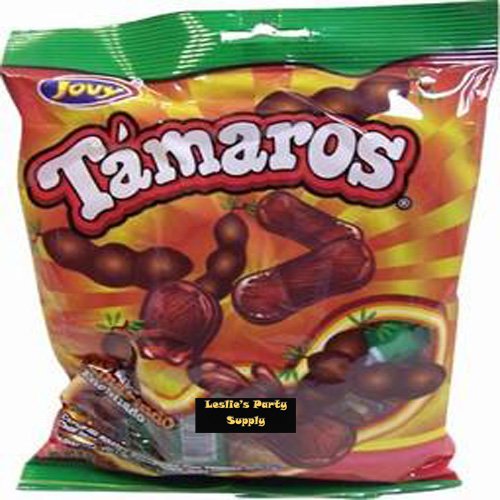 Jovy Tamaros Tamarind Flavored Candy | 6oz Bag | Mexican Candy
---
Brand: Jovy
Features:
DELICIOUS TASTE: When you pop these Mexican candies into your mouth, you'll experience an explosion of flavor. Sweet, sour, and spicy flavorings come together for an intriguing and captivating taste. You'll be pleasantly surprised at the chili center. Enjoy these tamarind candies.
AUTHENTIC MEXICAN TREAT: These tamarind flavored candies were made in Mexico. Show off your Mexican heritage. For decades, Mexicans have enjoyed tamarind candy. Tamarind candy can be found in hard candy balls, gummy candies, lollipops, or suckers. Jovy Tamaros delivers a burst of tamarind flavor with a chili center.
GREAT FOR FIESTAS: You've already set out the salsa bowls and donned your sombrero for your grand fiesta. Complete your fiesta with the ultimate party favors: Jovy Tamaros! These candies are the perfect size for filling up gift bags or for stuffing a pinata. Buy this assortment of candies for your party today!
PERFECT FOR HOLIDAYS: These mexican chili candies will brighten your Cinco de Mayo celebrations. They're a great cultural attribute to your home country. You can show your patriotic side with these delicious hard candies. They're also great for Halloween. You can pass them out to kids trick-or-treating. Use them as a stuffing stocker for Christmas.
JOVY CANDY: Jovy Candy strives to create delicious, appetizing candies that will satisfy your taste buds. We use specialized extracts, flavorings, and concentrate to deliver satiating flavors. You can buy these sweet foods in bulk boxes or as individual bags. Use our candies for all your party and holiday needs.
Details: Who can resist delicious Mexican tamarind candies? Their succulent taste will send your taste buds to heaven. Experience these aphrodisiac flavorings for yourself. Our Jovy Tamaros candies are artificially flavored with tamarind. At the center of these hard candy balls, you'll discover an appetizing chili center. It's a delightful mixture of sweet, spicy, and sour tastes. Has your mouth started watering yet? We're practically drooling just thinking of these luscious candies. Each candy is individually wrapped for your convenience, making them more portable. The bag weighs about 6 oz. The small size of these candies makes them great for stuffing pinatas. Jovy Tamaros is a must for any fiesta. They pay homage to the beautiful country of Mexico as you bring the Mexican spirit to your fiesta with these delectable, gourmet candies. These candies will make your party a hit! You can pass these candies out during Halloween for trick-or-treating or use them as a stocking stuffer for Christmas.
Package Dimensions: 6.8 x 5.6 x 2.7 inches
---
Share this Product
---
Other Brands