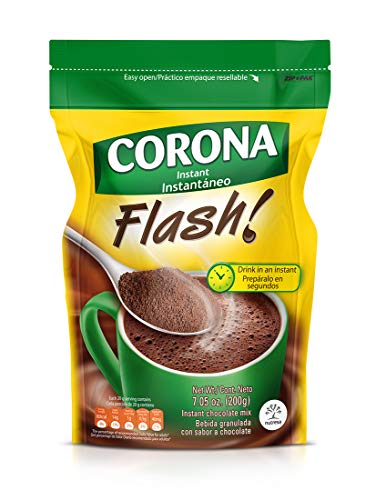 Corona Flash Instant Drink Mix | Amazing Texture & Flavor | 100% Pure Cocoa | Enjoy Anytime | 7.05 Ounce (Pack of 1)
---
Brand: CORONA
Features:
DELICIOUS FLAVOR: A chocolate drink with amazing texture, flavor, and aroma with instant preparation!
QUALITY PRODUCT: Corona Chocolate is made with real cocoa using sustainably sourced cocoa beans. It's also made with 0% Trans fat, and 0% Cholesterol!
EASY TO PREPARE: Great for drinking in any season since it can be prepared in cold milk during the summer, or hot milk during the winter.
SHARING IS CARING: Corona Flash has the perfect size to share with family and friends! The uncomplicated and quick preparation of our chocolate doesn't let you worry about anything else. Gather around because Corona Chocolate makes everything easy!
GREAT VALUE: Includes one 7.05 ounce bag of Corona Flash.
Release Date: 10-08-2022
Details: Corona Flash is the delicious chocolate drink you always keep in your pantry, and for good reason. Corona's amazing texture, flavor, and aroma come together to make the perfect drink. Always made with 100% pure cocoa, plus Corona Flash is a natural source of antioxidants and zero cholesterol. A delicious drink for the whole family, great for consuming every day! It's even perfect for any season, since you can prepare in cold milk to refresh your summer days, or in hot milk warm you in the winter. Keep tradition alive by sharing a delicious cup of chocolate with the ones you love the most and keep enjoying those good old times.
EAN: 0051817504328
Package Dimensions: 7.8 x 4.4 x 3.4 inches
---
Share this Product
---
Other Brands