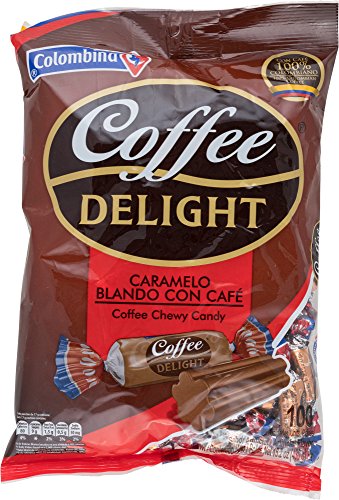 Colombina Coffee Delight - Coffee Chewy Candy - Made with 100% Real Colombian Coffee - Candy Bulk Bag (100 individually wrapped candy/Bag)
---
Brand: Colombina
Color: Brown
Features:
Coffee Colombian Candy: We believe that our individually wrapped candy starts your day by recharging, and rewarding you. Whether you are a child or adult our coffee flavored candy bag with no high fructose corn syrup will bring you the next-level coffee experience.
Made With Real Coffee: This chewy toffee candy is made with 100% real good coffee to give you that intense coffee flavor. Our caffeine chews contain the perfect blend of coffee with a touch of sweetness in a soft chew form to create a coffee chew.
Great Value Colombina Candy Pack: This pack of coffee candy individually wrapped includes over 100 soft chews which are great for a grab-n-go snack! Our bags of wrapped candy works well in the office candy dish for a quick pick-me-up sweet treat any time of day that everyone will enjoy.
Guilt-Free Cute Snacks: This round-shaped sweet candy makes for low calorie snacks as well as low sugar snacks! This soft, coffee chews candy does not contain high fructose corn syrup, but instead is sweetened with real sugar cane.
Traditional Mexican Candy/ Colombian candy: This coffee chocolate candy is the old fashioned candy we all enjoy so much! Some may call it retro candy or nostalgic candy. Pick up a bag of caffeine candy and enjoy the taste of Colombian sweets in a candy form.
Binding: Grocery
Release Date: 20-01-2021
Part Number: 12066
Details: Colombina Coffee Delight 100% Colombian Coffee Soft Candy 100 Units
EAN: 7702011010612
Package Dimensions: 9.9 x 7.0 x 1.7 inches
---
Share this Product
---
Other Brands