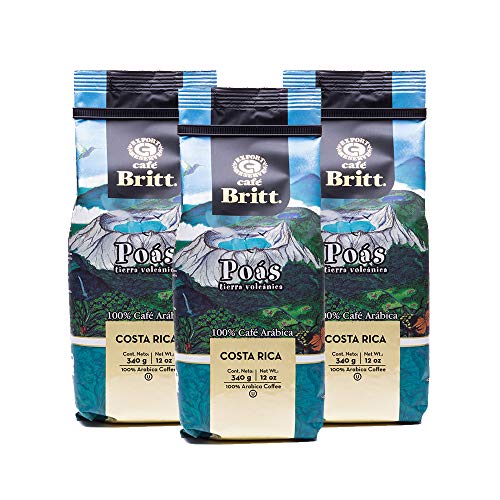 Café Britt® - Costa Rican Poas Tierra Volcanica Coffee (12 oz.) (3-Pack) - Ground, Arabica Coffee, Kosher, Gluten Free, 100% Gourmet & Medium Light Roast
---
Brand: Cafe Britt
Features:
SINGLE-ORIGIN COFFEE FROM POÁS - Located in Costa Rica's Central Valley, Poás produces a complex, earthy coffee with notes of lemon and flowers
In- Country Roaster - Our coffee is picked, roasted, and packed in Costa Rica - Every gourmet coffee we offer goes directly from the farm to our in-house roaster and then it's delivered fresh to your home.
Carbon Neutrality - Café Britt has been certified carbon neutral since 2013, and we continue to work to reduce our emissions.
Delivered Fresh to You- Premium ground coffee packaged in our triple-layer bag to lock in freshness.
Quality Guaranteed - 100% Arabica Coffee. Certified kosher and gluten free; high-mountain grown, Strictly Hard Bean coffee.
Details: This single-origin coffee comes from the slopes of Costa Rica's most-visited active volcano, Poás. The region's unique microclimates produce the perfect conditions for growing coffee: volcanic soil, altitude, and consistent rain. Nurtured over millennia, the nutrients in the rich soil produce a complex coffee with surprising taste subtleties. The area's altitude and harsher weather changes, in turn, allow for the development of hardier, higher-quality beans. Complex but light on the palate, this sophisticated medium roast from Café Britt has an enticing aroma and sweetness and a light acidity from the soil's high mineral content. About Café Britt Founded in Costa Rica in 1985, Café Britt was one of the world's first gourmet coffee roasters located in a coffee-producing country. Our decades of experience, strong ties with producers, and obsession with quality allow us to source the region's finest beans. Every gourmet coffee we offer goes directly from the farm to our in-house roaster. With Café Britt, experience the freshness that only coffee roasted in its country of origin can offer.
EAN: 0645860012963
Package Dimensions: 11.5 x 8.5 x 4.5 inches
---
Share this Product
---
Other Brands