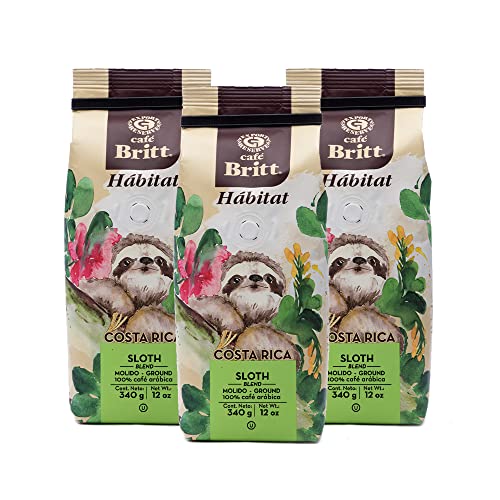 Café Britt® - Costa Rican Habitat Sloth Coffee (12 oz.) (3-Pack) - Ground, Arabica Coffee, Kosher, Gluten Free, 100% Gourmet & Medium Light Roast
---
Brand: Cafe Britt
Features:
COFFEE WITH A CONSERVATION PURPOSE – Sloth, Costa Rica's most famous resident. The coffee chosen for the blend is from Providencia and Tarrazú, two very different regions, paying homage to these animals' large distribution area throughout Latin America.
IN- COUNTRY ROASTER - Our coffee is picked, roasted, and packed in Costa Rica - Every gourmet coffee we offer goes directly from the farm to our in-house roaster and then it's delivered fresh to your home.
CARBON NEUTRALITY - Café Britt has been certified carbon neutral since 2013, and we continue to work to reduce our emissions.
DELIVERED FRESH TO YOU- Premium whole bean coffee packaged in our triple-layer bag to lock in freshness.
QUALITY GUARANTTEED - 100% Arabica Coffee. Certified kosher and gluten free; high mountain grown, Strictly Hard Bean coffee.
Details: Costa Rican Hábitat Sloth coffee For this blend, Café Britt has gotten together with Toucan Rescue Ranch to purchase collars and transmitters to track rescued sloths after their release. From the Tarrazú growing region, this coffee is a medium roast with a citrus (orange-lime) aroma and a fruity, caramel flavor. Founded in 2004 as a bird rescue center, the Toucan Rescue Ranch has transformed into a wildlife rescue center. In Costa Rica, we're lucky enough to live near some of the world's most famous animals: sloths. Having seen them for ourselves, we take threats to their habitat seriously. More than just cute and cuddly, these animals are essential to the health of the forests they inhabit.
EAN: 0645860014967
---
Share this Product
---
Other Brands