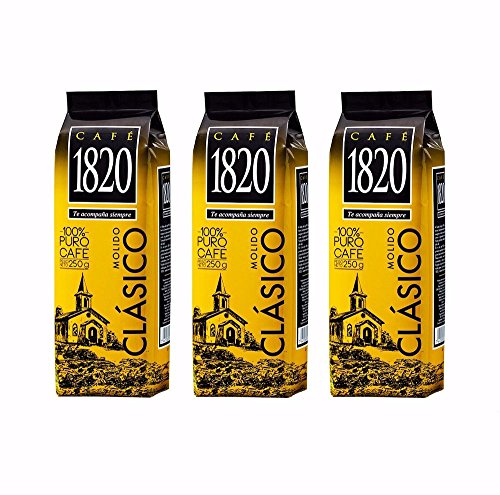 Cafe 1820 Molido - Costa Rica Gourmet Ground Premium Coffee - 8.8 oz (250 gr) 3 Pack
---
Brand: Cafe 1820
Color: Browne
Features:
100% Aromatic... inherent characteristic of Costa Rican coffee.
The perfect color of ground coffee that stands out consistency, dried or prepared.
Perfect grain size to influence the infusion or preparation process.
100% Pure Arabica Coffee. Not mixed with sugar or other ingredients.
Slight bitter flavor that shows off superior quality.
Binding: Grocery
model number: 7.44106E+12
Part Number: 7.44106E+12
Details: Coffee was introduced in Costa Rica at the end of the XVIII century. From that time on, it became the most important commercial activity and in it was in 1820 that Costa Rica first exported coffee to Panama. Our coffee brand has honored that year. Actually, there are 107 thousand hectares dedicated to produce the best arabic coffee. The diversity of soils, altitudes and climates have permitted the adaptation of various plant breed to high level altitude zones. 1820 coffee is produced in medium level altitude zones (1200 above sea level) to meet the most demanding ones. 1820 is a Gold Coffee balanced mixed from seven different zones dedicated to coffee production in Costa Rica. High altitude coffee grown in volcanic origin soil are rich in nutrients found over 1000 meters above sea level. Specialized tasters continuously classify and select coffee productions through tasting and analysis before packing.
EAN: 7441055303532
Package Dimensions: 10.8 x 9.5 x 2.1 inches
---
Share this Product
---
Other Brands