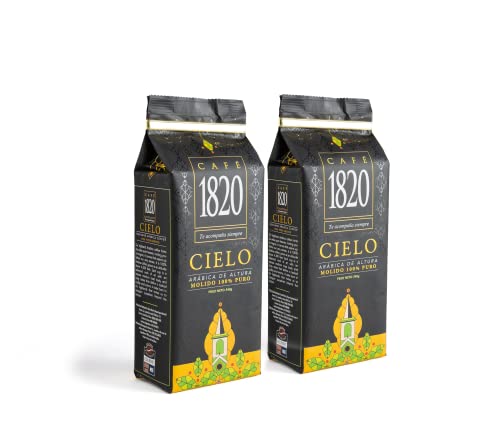 Café 1820 Coffee Cielo Gourmet 100% pure high altitude and very tasty Arabican Ground Coffee Two Pack 12 oz (340g)
---
Brand: 1820
Features:
Amazing-Delicious: Each cup of Cafe1820 classic ground coffee has an intense and fine flavor, with notes of chocolate and natural fruit. Excellent body, acidity and sweetness for a well-defined cup.
The Perfect Extra Touch To Start A New Day: Once you taste Cafe1820 ground coffee´s you will never want to taste anything else. At any time, coffee helps to improve alertness and attention.
Exotic & Unique: High altitude coffee grown in nutrient-rich volcanic soils located more than 1,100 meters above sea level. Its great flavor, color and aroma come from a hard work of investigation.
Always Fresh: Cafe 1820 ground coffee has an innovative packaging. In addition to preserving all the qualities of the coffee, it provides an image of elegance and quality.
100% Natural Product: Cafe 1820 is a supreme gourmet coffee, prepared with selected beans from the exotic soils from Costa Rica. Cafe 1820 gives our consumers an incredible coffee to a great price.
EAN: 7441006838090
Package Dimensions: 10.1 x 5.3 x 4.3 inches
---
Share this Product
---
Other Brands