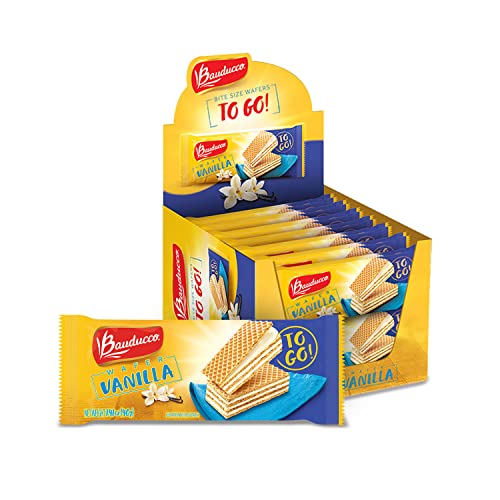 Bauducco Mini Vanilla Wafers - Crispy Wafer Cookies With 3 Delicious, Indulgent, Decadent Layers of Vanilla Flavored Cream - Delicious Sweet Snack or Desert - 1.41oz (Pack of 12 single serve individually wrapped)
---
Brand: Bauducco
Features:
BITE-SIZED: Our Mini Wafers are perfect for carrying in a backpack, making them ideal for school snacks, anywhere you go!
CONVENIENT ON THE GO: Ideal for lunch boxes. Take them to the office for a mid-afternoon munchie or inside your purse as a snack. These individual packages are ideal for any time of the day.
LIGHT AND EXTRA CRISPY:  Have a bite, and you'll experience a traditional Italian-style wafer, delicate and not oversweet.
NO ARTIFICIAL FLAVORS OR COLORS: Our Bauducco chocolate wafer cookies are made with no artificial flavors or colors.
3 LAYERS OF CREAM: Bauducco Wafers come with much more flavor for you to enjoy.
PERFECT FOR EVERY OCCASION: There are delicious options for any moment. You can enjoy it with coffee, tea, milk, juice, or even as an ingredient!
Binding: Grocery
Release Date: 13-10-2010
Details: From the Bauducco family to your family. The Bauducco history started back in 1948 when Carlo Bauducco traveled from Italy to Brazil and brought his family's original Panettone recipe along with a precious piece of sourdough. In 1978, Bauducco products traveled to the US, marking the first international endeavor of the traditional brand. Bauducco is part of the largest manufacturer of baked goods in Brazil and the largest producer of panettone in the world, Pandurata. Pandurata's main market categories include Panettones, Biscuits, Cookies, Toasts, Cakes, Mini Cakes, and Chocolates. Bauducco Wafers are crispy and delicate, with three delicious creamy layers. They taste great with coffee, milk, ice cream, you name it! Grab a bite now!
EAN: 0875754001463
Package Dimensions: 6.5 x 5.4 x 4.2 inches
---
Share this Product
---
Other Brands