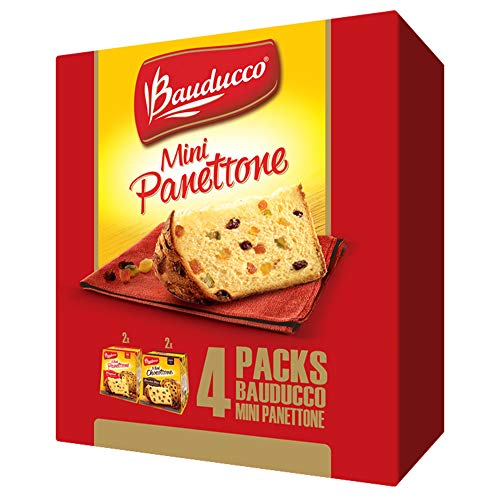 Bauducco Mini Panettone & Mini Chocottone, Moist & Fresh, Traditional Italian Recipe, Italian Traditional Holiday Cake, 14.1oz (Pack of 4)
---
Brand: Bauducco
Features:
MOIST & FRESH INDIVIDUAL TREAT: Each package includes 2 Mini Chocottones and 2 Mini Panettones. Small holiday cakes, ready to eat. They're moist, fresh and aromatic ready to be enjoyed at home, at the office or as a snack.
ORIGINAL RECIPE: Each Bauducco Mini Panettone is made with the finest ingredients, and carefully prepared in a natural fermentation process that takes 52 hours.
SMALL GIFT. BIG HEART: Everyone wishes for a sweet treat during the holidays, and these Mini Panettones are the perfect gift. They're delicious, cute looking and an easy way to show friendship and love.
FUN IN THE KITCHEN: Have fun with your kids preparing delicious treats like Ice Cream-filled Mini Panettone.
#1 PANETTONE IN THE US: Made by the Bauducco family, now in its third generation following the same original recipe since 1952.
Details: From the Bauducco family to your family. As a family-owned business for over 60 years, we know that a strong family can do amazing things. The Bauducco family comes together every day with a passion to create unique holiday treats made with care. We pour 52 hours of love into each Panettone - baking them to perfection for a light and delicate taste using the finest wholesome ingredients like Sun-Maid Raisins and Hershey's Chocolate Chips. Guaranteed Moist and Freshly Made, Bauducco Panettone is a traditional Italian holiday cake carefully prepared in a process that takes 52 hours. Bauducco is the world's largest Panettone manufacturer and #1 brand in the US.
EAN: 0875754003979
Package Dimensions: 9.1 x 8.0 x 4.3 inches
---
Share this Product
---
Other Brands