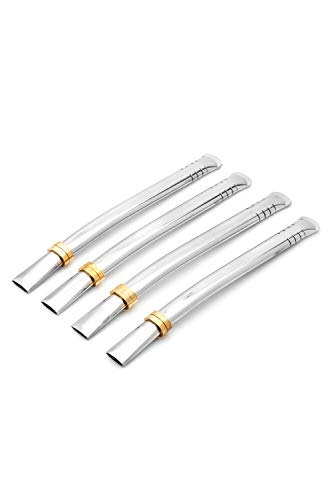 BALIBETOV [NEW] Yerba Mate Stainless Steel Straw - Set of Bombillas for Mate gourd drinking - 6'' long (16 cm) (Silver Stainless Steel Set of 4 Flat Bombillas)
---
Brand: BALIBETOV
Color: Silver Stainless Steel Set of 4 Flat Bombillas
Features:
THE SET: Includes 4 Premium Stainless Steel Flat Yerba Mate Bombillas (Straw)
THE BOMBILLAS: Measures- 6'' long (16 cm). Made of 304 food-grade 18/8 stainless steel, innoxious, no peculiar smell, reusable and durable Eco-Friendly design.
PRACTICAL: Works for Yerba Mate, freshly ground coffee, loose leaf teas or French press coffee freshly filtered.
TRADITION: This traditional South American device is the most healthful, convenient, and effective method devised for sipping herbal tea preparations. When herbs are left to float unrestricted in hot water they release more of the important nutrients and antioxidants we crave.
GUARANTEED SATISFACTION: Your satisfaction is our main priority. Your satisfaction is 100% guaranteed. Are you not completely satisfied? Send us an email and we will do our best to fix it.
Binding: Kitchen
model number: BOMBX4-FLAT
Details: What is Yerba Mate Tea? Yerba Mate is a green tea infusion from South America that is traditionally drunk with a gourd called Mate and a straw called Bombilla. The tea is very distinct with a strong natural herbal taste, It has a potent yet soothing kick that will keep you awake and alert and will help you stay focused when you would normally be tired and worn out. It does this without all the caffeine of coffee. If drank properly it is a great dietary supplement, suppressing the appetite while providing you with all the nutrients needed to sustain life, including 24 vitamins and minerals and 15 amino acids. In addition, this South American yerba tea has many other herbal health benefits! t also holds a very symbolic ritualistic tradition around the gathering of close friends, family, and community in that only one gourd - Mate is used to serve several people and is usually passed around. What do you need to prepare Mate? To prepare Mate, you first need the "Yerba". You can buy these dried and ground leaves in several forms, such as herbs or fruit flavored; although the most commonly used is the so called "Yerba Mate con palo", with more or less 65% of dried leaves and 35% of chips and fibers from the Yerba Mate. The Mate (container) is also needed along with the "Bombilla" (straw); and hot water just before boiling. If you are going to drink Mate with a group of people, then you should have a thermos to maintain the water temperature for longer. Preparation process Fill 3/4 of the MATE wiyh YERBA MATE. Cover the Mate with your hand and shake softly. Till the Mate towards a side. Pour warm water down the emptiest side. Place your Bombilla into the empty side. Pour hot water (84ºC, the water must be hot not boiling) over the Mate leaves. Relax and enjoy your Mate.
EAN: 0072632632188
Package Dimensions: 8.7 x 2.4 x 0.4 inches
---
Share this Product
---
Other Brands