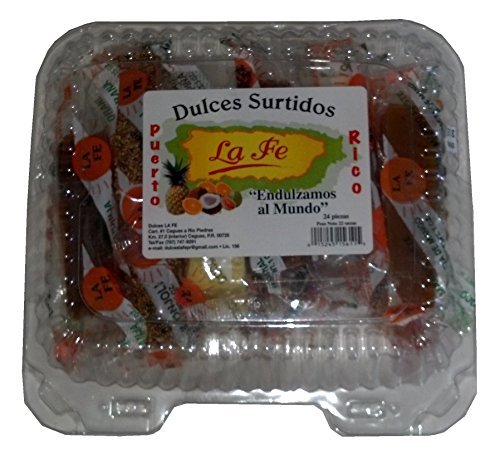 Assortment Sweets of Puerto Rico (Surtido De Dulces Tipicos De Puerto Rico) 21 Pieces (1 Oz Each/piece) By Fabrica De Dulces La Fe
---
Brand: La Fe
Features:
21 pieces of the best puerto rican sweets (1 oz each piece) individually package
sesame seed, guava paste, black coconut, coconut milk,coconut cream, coconut candy, coconut toffee, coconut pineapple, ginger coconut, lolipop
ajonjoli, pilones, pasta de guayaba, mampostial, dulce de coco, leche de coco, cremitas de coco, coco-pina, coco negro y coco jengibre
Made in Caguas Puerto Rico, Dulces tipicos de Puerto Rico
Top seller in Puerto Rico, perfect for gift, christmas gift, ocassional gift, candy gift
Details: 21 pieces (1 oz each) of assortment of sweets, include: sesame seed, coconut candy,lollipop, guava paste , coconut toffee, coconut pineapple, coconut cream, ginger coconut, coconut-milk. 22 oz pack. If you want to send a single flavor, please let me know and I'll gladly sent them!
EAN: 0015245156115
Package Dimensions: 8.0 x 7.6 x 2.9 inches
---
Share this Product
---
Other Brands