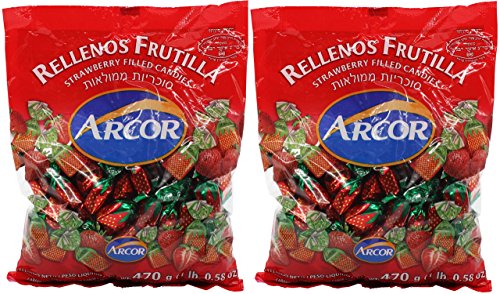 Arcor Juice Filled Strawberry Hard Kosher Candy 2 Packs, Each bag contains 470 Grams = Total 940 Grams (2.072lb) (2 Pack)
---
Brand: Arcor Kosher
Color: Cream
Features:
This yummy candy is full of taste. to suite for all ages.
Arcor Brand Candy are known for their great flavors. Treat yourself to one, and you'll end up finishing the entire bag!
This product is certified Kosher under the strict supervision of the Manchester Bais Din
Each bag contains 470 Grams = Total 940 Grams (2.072lb)
model number: A2521
Part Number: A2521
Details: Try out our Strawberry Candy with Cream Filling and tell us if you feel the difference!
EAN: 7790580315986
Package Dimensions: 8.2 x 7.1 x 2.9 inches
---
Share this Product
---
Other Brands