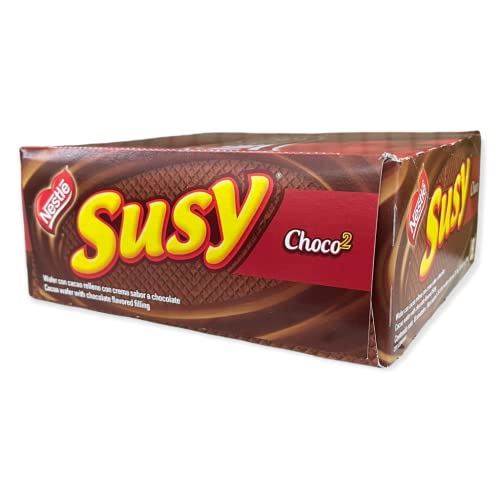 Nestlé Susy Choco2 – Wafer de Cacao con Crema de Chocolate, 18 unidades, 50gr cada una / Cocoa Wafer with Chocolate Cream, 18 units, 50gr each
---
Features:
CRUJIENTE GALLETA CON DOBLE SABOR A CHOCOLATE perfecta para compartir y disfrutar, contiene Galleta Susy de chocolate rellena con crema de chocolate 18 unidades, de 50gr cada paquete, 900gr en total. / CRUNCHY COOKIE WITH DOUBLE CHOCOLATE FLAVOR perfect to share and enjoy, contains Susy Cookie with 18 units, 50gr each package, total of 900 gr.
100% CACAO VENEZOLANO, EL MEJOR DEL MUNDO llega con Susy Choco2, a regalarte una doble experiencia de chocolate con su deliciosa combinación de crujientes capas de galletas tipo wafer de chocolate rellenas de un exquisita crema de chocolate. / 100% VENEZUELAN COCOA, THE BEST IN THE WORLD comes with Susy Choco2, to give you a double chocolate experience with its delicious combination of crunchy layers of chocolate wafer cookies filled with an exquisite chocolate cream.
HECHA EN VENEZUELA PARA EL MUNDO Nestlé procesa esta deliciosa galleta de una manera exquisita, con productos de primera calidad seleccionados para ofrecer una verdadera experiencia venezolana. / MADE IN VENEZUELA FOR THE WORLD Nestlé processes this delicious cookie in an exquisite way, with top quality products selected to offer a true Venezuelan experience.
SIENTE LA NOSTALGIA DE ESTAR EN VENEZUELA en tu lugar favorito o con tus panas o familia; reviviendo cada instante con los tuyos al lado de Susy. / YOU FEEL THE NOSTALGIA OF BEING IN VENEZUELA in you favorite place or with your friends or family; reliving every moment with Susy
EL SNACK HECHO PARA CUALQUIER MOMENTO DEL DÍA perfecto para compartir en esos momentos de diversión y por qué no, de nostalgia; al lado de tus amigos, panas, familia o simplemente sólo para ti. / THE SNACK MADE FOR ANY TIME OF THE DAY perfect to share in those moments of fun and why not, of nostalgia; next to your friends, friends, family or just for you.
Details: Susy, Galleta Tipo Wafer Es el complemento perfecto para ese momento de indulgencia que hace que todo fluya creando un ambiente de buena vibra. Esta edición especial combina, en la porción adecuada, lo crujiente de la galleta tipo wafer con sabor a chocolate con el relleno de SUSY de siempre, una deliciosa crema de chocolate elaborada con el mejor cacao del mundo. SUSY Choco2 es la mejor combinación entre crujientes capas de galletas tipo wafer sabor a chocolate, rellenas con una deliciosa crema sabor a chocolate SAVOY. ¡Doble Choco, Doble Sabor! Este formato, contiene 18 unidades de SUSY Choco2 de 50 g c/u, perfectos para compartir y disfrutar del doble sabor a choco que te trae esta edición especial de SUSY. Esta galleta es elaborada en Venezuela por Nestlé, quién ha estado desarrollando toda la potencia de la alimentación a nivel mundial con servicios, productos y marcas que superan las expectativas de nutrición, salud y bienestar, ofreciendo garantía de calidad y seguridad en sus productos. Susy, Wafer Type Cookie It is the perfect complement for that moment of indulgence that makes everything flow creating an environment of good vibes. This special edition combines, in the right portion, the crunchiness of the chocolate-flavored wafer-type biscuit with the usual SUSY filling, a delicious chocolate cream made with the best cocoa in the world. SUSY Choco2 is the best combination of crunchy layers of chocolate-flavored wafer-type biscuits, filled with a delicious SAVOY chocolate-flavored cream. Double Chocó, Double Flavor! This biscuit is made in Venezuela by Nestlé, who has been developing all the power of food worldwide with services, products and brands that exceed expectations of nutrition, health and well-being, offering a guarantee of quality and safety in its products.
EAN: 7591016854730
Package Dimensions: 8.0 x 7.0 x 6.0 inches
---
Share this Product
---
Other Brands