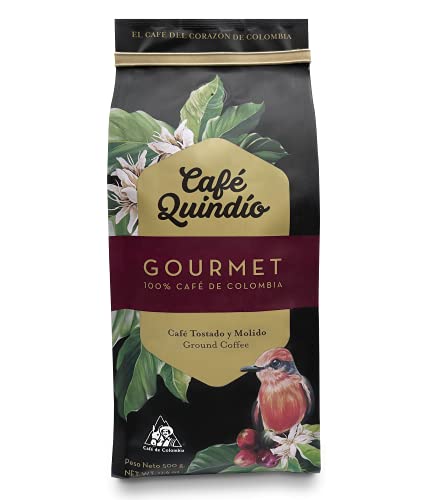 Cafe Quindio Gourmet Ground Coffee, Medium Roast 100% Colombian Arabica Excelso Coffee, Artisanal Cultivation Single Estate Coffee (Ground 17.6oz)
---
Brand: CAFE QUINDIO
Features:
Artisanal Coffee Cultivation.
Made with Excelso Colombian coffee, roasted and packed in origin.
High Quality product – strong body and intense notes.
The Coffee House Blend, with selected grains of different heights.
The perfect balance with a Coffee Cup Profile of Chocolate notes.
Binding: Grocery
Details: Made from the finest selection of coffee produced in the coffee farms in Quindio, Colombia. Characterized as grown at ideal altitude (exceeds 1,600 m above sea level), producing the best cherries in its class, harvested by hand, classified and benefited with the traditional care and modern techniques, pass to roasting at an ideal temperature to highlight its softness and aroma, which has given us an exceptional reputation in the palates of coffee connoisseurs.
EAN: 0763985860167
Package Dimensions: 10.6 x 4.4 x 2.3 inches
---
Share this Product
---
Other Brands