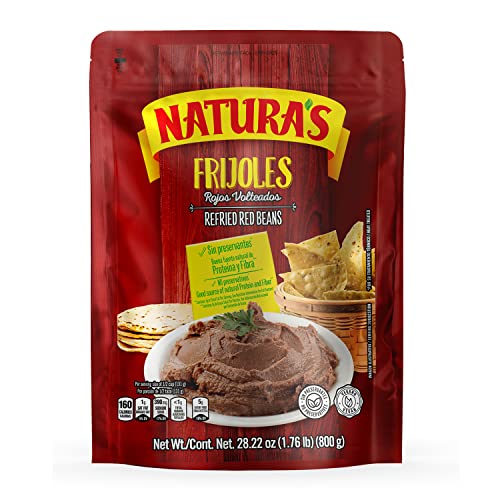 Natura's Refried Red Beans, Ready-to-Eat Vegetarian Frijoles Rojos Refritos/Volteados, 28.22oz Pouch (Pack of 12)
---
Brand: Natura's
Features:
AUTHENTIC FLAVOR: Natura's Refried Red Beans are perfectly seasoned and creamy smooth, perfect for your favorite dishes
SOURCE OF FIBER & PROTEIN: Beans are a natural source of fiber and protein. Natura's frijoles rojos contain 7g of fiber and 8g of protein per serving.
NO PRESERVATIVES: Our vegetarian refried beans don't contain preservatives and are made from high-quality beans that are ground to a smooth texture
CONVENIENCE IN A POUCH: Natura's red beans are perfect for a busy lifestyle. They're fast and easy to use on your recipes. Open the pouch, season, heat, and serve.
VERSATILE INGREDIENT: Use them for your favorite plant-based fusion recipes such as burritos, quesadillas, layer dips, taco salad, and stews
Release Date: 28-08-2022
Details: Natura's Vegetarian Refried Red Beans are a great-tasting addition to any of your favorite Central American meals. Our refried frijoles rojos are made from lightly seasoned, high-quality red beans that are blended with onion, garlic, spices, and soybean oil. Gluten-free and vegan, Natura's refried beans are an excellent source of fiber and protein. It has no preservatives and comes in an easy-open pouch ready to serve. Use them in your favorite fusion dishes such as layer dips, quesadillas, burritos and tacos.
Package Dimensions: 15.0 x 9.0 x 9.0 inches
---
Share this Product
---
Other Brands