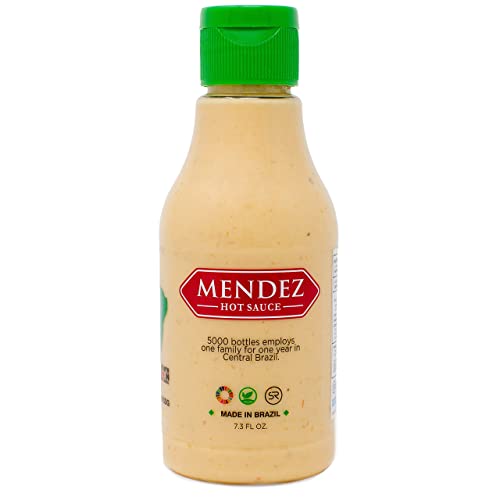 Mendez Hot Sauce - Mild - Molho de Pimenta Cremoso - Imported from Brazil - Low Carb - Delicious Flavor - Creamy Texture - Low Sodium & Sugar-Free - Gourmet Vegan - Paleo & Keto Friendly - Ideal On Burgers, Eggs, Salad, Pizza
---
Brand: StartupRunner
Features:
Mellow Heat, Plenty of Flavor: You love the kick of hot sauce on snacks and meals but need the intensity dialed down a bit? Our mild hot sauce is the savory answer. It won't compromise on taste but tones down the heat. Put it on everything from breakfast omelets to midnight sandwich snacks. The delicate, delicious blend of Brazilian Malagueta peppers, herbs, and spices are sure to satisfy your unique flavor cravings.
Inspires Unique Pairings: Don't let basic daily dishes bore your tastebuds—transform them with a few sprinkles of Mendez sauce. Simple spaghetti becomes a flavorful feast. Ho-hum hamburgers get gobbled down with glee. Plain old pizza has a pleasing new pizzazz. Enhance a variety of foods with our delectable mild hot sauce.
Keto, Paleo, & Vegan Friendly: Wellness lifestyles aren't disrupted when you zest up dishes with Mendez hotsauce. Our thoughtful blend from Brazil is low in net carbs and uses no sugar at all. It's also low-calorie, gluten-free, low-sodium, and plant-based. It covers all the bases in terms of pure personal food choices...all while adding plenty of glorious taste to your special preferences.
Mix It Up: We encourage experimentation with our sauces! Mix Mendez with mayo or dressing for a tasty sandwich spread or dipping sauce. Use it in marinades for meats and vegetables. Sprinkle it in tomato juice, cocktails—even hot cocoa. Add a dash to french fries, popcorn, and more. Share with us if you find other scrumptious ways to enjoy it.
At Mendez, Kindness Matters: While adding tangy flavor to meals, why not do other good things for the world, too? That's the mindset of the Mendez team. We're excited to work with hard-working farming families in South America to assist them out of poverty so their communities can thrive. Our products are expertly blended, bottled, and shipped with care from beautiful Central Brazil. Enjoy your sauce knowing it's a small bottle with a BIG meaningful impact.
Details: For 13 years each bottle of Mendez Hot Sauce helped lift farming families out of poverty in Central Brazil. Providing agricultural training and purchase of crops Mendez customers have already improved the lives of 112 families. Join our mission to lift 1000 families out of poverty with Mendez Hot Sauce.
Package Dimensions: 5.4 x 2.0 x 1.3 inches
---
Share this Product
---
Other Brands